| | | | |
| --- | --- | --- | --- |
| | 1 2 3 4 | Showing plugins 31-33 (33 found) | |
* Based around 12 carefully sampled and mastered Rhodes Piano samples
* 1-32 voice polyphony
* Unique width control
* Decay, Release, Stereo Width, Velocity sensitivity, muffle and hardness Amount adjustable
* Gentle muffling filter

Price: Free
Difficulty: easy CPU: low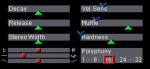 Very low CPU usage, nice sound and in comparison with other huge piano plugins this one is really short in file size and has a quite satisfying sound. Its interface is simple but versatile. I use this one alot if I need a piano instantly. If you need an alternative to Trinitys Piano (MadTracker Instrument, 17 MB) this is maybe your choice.
The mda DX-10 VSTi is a freeware FM synth that recreates the classic FM sound but with a much simpler and more intuitive interface than any DX synth, or any of their software imitations.

By using a harmonically rich modulating oscillator (with extra control in the new version) only only one carrier and modulator produce a wide range of FM sounds typical of the later series of Yamaha DX synths such the DX-11 and TX-81Z.

Price: Free
Difficulty: easy CPU: low
| | | | |
| --- | --- | --- | --- |
| | 1 2 3 4 | Showing plugins 31-33 (33 found) | |