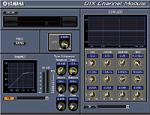 01X Channel Module is a VST plugin that is shipped with the Yamaha 01X Production Studio console. The 01X Channel Module is a VST/Audio Units software plug-in version of a single 01X channel strip, giving you the ability to control and manage all mixer parameters, including EQ, dynamics, phase, attenuation and more from an intuitive graphical interface on your computer screen.
Difficulty: medium CPU: medium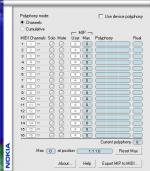 The Nokia Auralisation Tool is part of the Nokia Audio Suite. Nokia Audio Suite 1.1 is a tool for creating SP-MIDI audio content (e.g., polyphonic ring tones for Nokia devices). The tool also auralizes (or models) the audio content as it sounds when played through the mobile device's speaker (performance will vary on different PC speakers). Nokia Audio Suite 1.1 allows users to configure the behavior of device lights associated with MIDI ring tones to support the MIDI lights feature. MIDI files that include Lights Configurations can affect gel grips, display lights and keypad Lights on target devices.

More
Price: Free
Difficulty: medium CPU: medium