| | | | |
| --- | --- | --- | --- |
| | | Showing plugins 1-5 (5 found) | |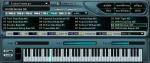 Absynth 2 is a semi-modular synthesizer combining multiple synthesis techniques. It has been replaced by Absynth 3, although they can be separately used.
Discontinued
Difficulty: hard CPU: medium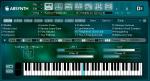 Now in its third generation, the award-winning synthesizer continues to build on its untouchable reputation. From futuristic synths to rhythmic mayhem, vintage sounds to ambient layers and completely unique, alien soundscapes – Absynth 3 seduces with sublime sounds. The possibilities offered by its semi-modular architecture and powerful, unique features stretch well beyond the boundaries of existing synthesizers, creating an extremely diverse spectrum of amazing sounds.

More
Price: €289.00
Difficulty: hard CPU: medium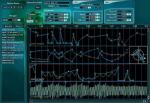 Absynth is a semi-modular synthesizer combining multiple synthesis techniques.

* Award-winning semi-modular synthesizer offering an unprecedented range of sonic possibilities.
* Innovative and unique combination of multiple synthesis and sampling techniques.
* New user-interface providing a concise overview and convenient one-window editing.
* Live stereo input allowing ABSYNTH 3 to be used as an extraordinary effect unit.
* 9 sound sources, 14 filters types, dedicated modulation and more for all three channels.
* Uniquely flexible envelopes with up to 68 breakpoints and sophisticated group management.
* Improved envelope display including a time display, variable resolution grid and cursor showing current position in the envelope.
* Dedicated surround sound function (3.1, 4.1, 5.1, 6.1, 7.1, 8.0) per channel allowing spatial manipulation of the sound or its individual components.
* Real-time fractalize parameters linked to individual envelopes.
* Powerful effects including a special reverb, echo, pipe, multi-tap, multi-comb.
Price: €271.00
Difficulty: hard CPU: medium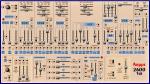 Based on ARP's legendary semi-modular analog monosynth! This amazing softsynth sounds very close to the original ARP 2600. Like the original, it's a monosynth (no polyphony). But also like the original, it has many Frequency Modulation options which enable it to create some truly weird sound effects. PWM, Sample & Hold, virtual Spring Reverb, Ring Modulation, and a dedicated Noise Generator are all there! Unfortunately, the Arppe2600va does not have virtual patch cords, so it is not patchable like the original synth (it only exists in the "pre-wired" state). But even a pre-wired 2600 will pretty much be able to produce nearly all of the classic ARP synth sounds from the 70s and beyond. All controls are mapped to MIDI CC#'s, and you can override the default settings by using the MIDI Learn feature. Use as a simple stand-alone synth (.exe file included), or copy the DLL into your favorite DAW or sequencer's plugin folder.
Price: Free
Difficulty: hard CPU: medium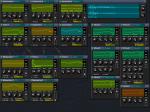 Advanced Simulated Analog Modular Synthesizer:

# Modular patching of synth components and controls.
# Internal high-frequency digital simulation of analogue voltage levels.
# Oscillator with phase, Detune and Pulsewidth that generates standard synth waveforms.
# Sampler, 16 bit Mono/Stereo sample player that imports .Wav files.
# 2/4 Pole Multimode Filters with Cutoff, Resonance (LP, HP, BP and BS filtertypes),
# State Variable, Zolzer, Moog, 10 band EQ, Formant, Comb, Allpass and Shelving Filters.
# Amplifier with Panning, Volume and Velocity control.
# Delay, Reverb, Phaser, Chorus, and Distortion Effects.
# 10 Octave/12 Note Pitch control with Detune and Portamento.
# Bipolar/Unipolar LFO, ADSR Envelope and special-effect Modulators.
# Output component with Panning, DC removal, Volume and Clip control.
# Noise generator, filtered Pink, White and Brown noise with freq. sync control.
# Input generator so synth can function as an insert effect.
# Full stereo support (selected components can run in mono to save CPU cycles).
# Instant visual feedback on all controls. Frequency, Time/Amplitude, Modulation, etc.
# Up to 8 assignable automation controls.
# 2 banks of 128 pre-made patches.
# Up to 8-voice true polyphony.

More
Price: Free
Difficulty: medium CPU: medium
| | | | |
| --- | --- | --- | --- |
| | | Showing plugins 1-5 (5 found) | |
---
Contact the plugins database maintainers at
---
Copyright © 1998-2005 Yannick Delwiche
All rights reserved