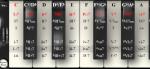 Using Chordspace Playa you play a chord with your left hand while your right plays the melody in the correct scale for that chord. In the same way an accomplished pianist does.
Except that you`re only using one finger for the chord and the correct melody scale is always on the white notes - ain`t technology great?
Price: €35.00
Difficulty: medium CPU: medium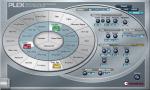 PLEX is a synthesizer based on an absolutely novel synthesizing process, which offers you almost limitless possibilities in varying and creating sounds. Using a new audio analysis technique, the original sound is split into four components: lower spectrum, higher spectrum, filter characteristics and amplitude envelope. Each component can be replaced and combined with other elements.
Price: €169.99
Difficulty: medium CPU: medium