About VST plugins
---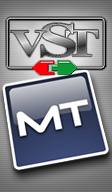 Since MadTracker 2.5 is able to host VST plugins, a complete new world of possibilities has opened up to users of this program. This world sometimes can be quite overwhelming: there are thousands and thousands of plugins, and finding exactly the ones you need can be a time-consuming labour. This article will try to help you with finding your path through this jungle. I have selected the best free VST instruments and effects of which I think that they are worth the attention. Furthermore, all mentioned plugins are being accompanied by a MT2 file that gives an idea of how they sound inside MadTracker.
This article is divided into three main parts. First I will tell you about the basics of VST plugins. Following is the background of free plugins. Finally I will give you some examples of VST instruments and effects in order to show you how they sound when used inside MadTracker. If you don't know how the basics of loading and using VST plugins inside MadTracker, then I suggest you to read Inge's Using VST Plugins Inside MadTracker first.
About VST plugins
Since Steinberg invented the VST standard (Virtual Studio Technology), a completely new world opened to computer musicians. Many music-composing programs support this standard nowadays, and MadTracker has joined up too. VST plugins give access to high quality sound, much versatility, and previously unreachable and very experimental soundscapes. Proper mastering of VST plugins gives you more possibilities for achieving compositional targets, and takes you a step further in the creation of high quality music. VST plugins are divided into two types: VST instruments (VSTi) and VST effects (VSTe). Without VST plugins, you are limited to disk-based samples and a limited amount of effects. VST plugins overcome these limitations: they provide a virtually endless amount of possible instruments and effects.
Some tips for usage of VSTs
Since some plugins demand a high usage of your system resources (processor and memory), it is important to choose and use them wisely. Some plugins offer ways to reduce this demand (limiting the amount of possible voices per instrument or effects that can be turned off, etc.), but in general your system has to do more work than without these plugins. Modern systems (1 GHz processor / 256 MB working memory and higher) can already take advantage of a significant part of the available plugins. No one can tell in advance what your system can handle. The only way to find out is to see when your sound starts stuttering.
Ways to even expand the possibilities of VST plugins are so-called VST wrapper plugins. These plugins enable you to use different plugin standards (for instance DirectX plugins or SoundFonts). Finding proper VST wrappers gives you the possibility to use sheer endless amounts of possible sources for your compositions inside MadTracker.
Direct X wrapper
Soundfont wrapper
MP3 wrapper

Information on the background of free plugins
Besides VST coders that demand money for their plugins, there is also a tremendous amount of VST coders that release their plugins for free. One specific software package has enabled anyone with the least bit of coding skills to make plugins themselves: Synthedit. Synthedit is a neat piece of software that offers the possibility to produce high quality VST plugins. Producing your own VST plugins enables you to generate exactly that effect, instrument or skin that you want to use for your compositions. Due to the high experience of some coders that use SynthEdit, many very good free plugins have emerged. Gladly some commercial software developers have jumped onto the train for free plugins too and released free versions of their plugins. These developers include Mda, Muon, ReFX, rgc:audio, Smartelectronix, Buzzroom, Kjaerhus Plugins, Andreas Ersson, Stefan Kuhn, Ichiro Toda to name but a few.
Examples of free plugins and their possibilities inside MadTracker
If you are new to using VST plugins, then the best thing to do is to start with a relative simple VST effect or instrument to get the general idea of what you can do with it. Once you get more experience, you can try out more complex plugins. Below are some free plugins with audio examples that are directly playable in MadTracker. I have chosen these plugins because they are quite easy to start with and mostly have a very low demand for system resources. This way these plugins will even work on relative slow computers (lower than 1 GHz processor and 256 MB of working memory).
Every plugin described shows a screenshot, the download location, an preview of the sound (in .ogg format, which any MP3 player can play), the MT2 file that contains the example, an indication of the ease of usage, the system resources asked, and a short description.
The preview of the sound can be heard by clicking on Listen. In order to be able to actually hear the MT2, the used plugin should be installed on your system. Download the plugin, extract the file (if necessary) and place the plugin (.dll) inside your VST folder. If you haven't set up a VST folder yet, simply place the .dll file of the plugin inside the directory of MadTracker. Next, start MadTracker, and click on Source. The plugin will now be played inside MadTracker directly.
(The listed system usage is based on my own configuration (Windows XP, Pentium III 1 GHz, 765 MB RAM, SoundBlaster Live! 5.1 Player). High system usage does not imply that the plugin won't work: results may vary per system configuration.)
Instruments
Muon Tau
Very easy and intuitive VST instrument resembling a famous acid bassline, the CPU usage is very low and perfect for slow systems.

Difficulty: Easy CPU: Low
Listen Source

mdaPiano
Very low CPU usage, nice sound and in comparison with other huge piano plugins this one is really short in file size and has a quite satisfying sound. Its interface is simple but versatile. I use this one alot if I need a piano instantly. If you need an alternative to Trinitys Piano (MadTracker Instrument, 17 MB) this is maybe your choice.

Difficulty: Easy CPU: Low
Listen Source

E-Phonic / Drumatic 2
If you need 808, 909 like drums especially kicks then this one is your choice. Very nice and easy to use interface, good sound and low CPU usage. It is a breeze to learn and a lot of fun to use.

Difficulty: Medium CPU: Low
Listen Source

Superwave P8
Great freeware plugin for those heavy detuned lead sounds. It also creates rich pads and synth strings. This one is a bit harder to learn since it offers a lot of functions. But you get into it after some time.

Difficulty: Hard CPU: Medium
Listen Source

Linplug / Freealpha
Very good for warm pads and synth strings.

Difficulty: Medium CPU: Medium
Listen Source

Ichiro Toda / Synth 1
Another great and versatile synth plugin with alot of features. Quite complex but you`ll learn how it works.

Difficulty: Hard CPU: Low
Listen Source

Andreas Ersson / IBlit
Very good for fat basslines and lead sounds. High quality at low CPU usage!

Difficulty: Medium CPU: Low
Listen Source
Effects
Kjaerhus / Classic Series
Kjaerhus produce really good and free plugins with a very intuitive interface. Very easy to learn, good quality and low CPU usage.

Difficulty: Easy CPU: Low
Listen Source

mdaVocoder
This one is a bit tricky to set up but the results are really amazing. Let the synth talk ;)

Difficulty: Hard CPU: Low
Listen Source

Tobybear / Madshifta
Lets you change the pitch of a loop without changing its original tempo.

Difficulty: Easy CPU: Low
Listen Source
---
---
Copyright © 1998-2005 Yannick Delwiche
All rights reserved