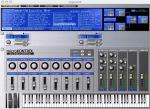 Basically a collection of authentic emulations of the Korg classics MS-20, PolySix and Wavestation, comes with an MS-20 lookalike hardware controller. Sounds superb, a must-have.
Price: €600.00
Difficulty: medium CPU: high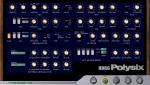 Part of the Korg Legacy Collection, the whole package includes: MS-20, Polysix, Wavestation & Legacy Cell [screenshot] instrument plugins and 20 effect plugins (including an MS-20 filter) plus a USB MIDI Controller keyboard in the style of an MS-20, Patch Cable for MS-20 Controller x 10, USB Cable and an Owner's Manual.

More
Price: €388.00
Difficulty: medium CPU: medium