* 3 oscillators, two offering tuned waveforms, with the third offering noise
* Separate envelope generators for each waveform, with individual decay rates
* Distortion control for the tuned oscillator waveform
* Low pass resonant filter
* Multi-timbral operation
Price: €15.00
Difficulty: easy CPU: medium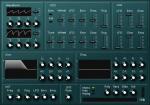 cesSynth1, a VST2 plugin which models a flexible analogue synthesiser. The synth is a dual oscillator design, incorporating a fourth order resonant low pass filter.

Features:

* Up to 32 note polyphonic, with a polyphony limiting control
* Dual oscillators, with selectable octaves
* Three oscillator waveforms (variable pulse, variable saw and triangle), which can be combined to produce complex composite waveforms for each oscillator
* Three modulation sources (LFO, and two complex envelope generators)
* Fourth order resonant low pass filter
* The following controls can be modulated - frequency of each oscillator, VCA for each oscillator, VCF cutoff frequency
* Monophonic, polyphonic and Arpeggio operating modes.
Price: €15.00
Difficulty: medium CPU: medium