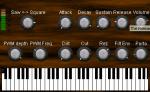 Do you miss the dirtyness and warmth of old analog gear that has been used for just a few years too much? Then this plugin might interest you. I've used some modules I programmed myself in this synth. The Moogish filter for example is one of my own modules. Making your own modules for Synthedit gives your plugins a more unique sound compared with other Synthedit generations and it's quite easy if you know a little about C.
Price: Free
Difficulty: easy CPU: low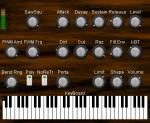 Sequel to the DirtyMono. This actually is an upgraded version with optional 8-voice Polyphony, soft-distortion, Keyboard->filter, ...
The resonance goes a very little higher than with DirtyMono. It still features my home written filter (and other selfmade modules), so it sounds just that little bit different from other Synthedit-projects using standard modules.
Price: Free
Difficulty: easy CPU: low