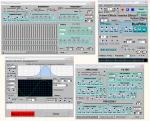 Features:

* Realtime, Polyphonic, Multi-timbral synthesizer.
* Microtonal capabilities with any scale, any number of notes per octave (up to 127) and keymapping.

* 3 synthesizer engines:

ADsynth" or "ADnote" is a complex engine which makes sounds by adding a number of voices. Each one has filters, envelopes, LFOs, morphing, modulation (Ring Modulation, Phase Modulation, the modulators can have any shape), resonance, etc. Each voice includes a very powerful waveform generator with up to 128 sine/nonsine harmonics. This engine includes antialiasing.

More
Price: Free
Difficulty: hard CPU: medium