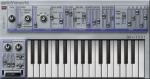 Taking a unique approach to oscillator tone generation, the SH-1001 can generate all those tones you've been looking for, without any undesireable side effects. And featuring almost 300 high quality presets it is easy to find just the sound you're looking for.

Features:

* High quality alias-free multi-mode oscillator.
* True stereo 64 bit internal precision.
* Near to 300 high quality presets, including a set from SampleBytes.com.
* Unique analogue simulation of all components including output stage.
* True automation (in hosts that supports it).
* MIDI automation with assignable controllers.
* 3 different filters, to suit your personal preferences.
* Ultra-Precise fader control while holding down the "Ctrl" button.

Price: €100.00
Difficulty: medium CPU: medium