Crow Preamp emulates the way tube preamps behave and sound. It will add the typical saturation and warmth of real tubes to your digital tracks! Crow preamp emulator is very easy to use, and there are only a few parameters for you to handle: input level, tube drive amount, tube selection, output level and power switch.
Price: €19.99
Difficulty: medium CPU: medium

The distinctive sound of vintage strings machines like the Arp Solina or Crumer Performer, can be heard on numerous music productions. It has been used by various musicians like: Pink Floyd, Air, The Eagles, Elton John, The Cure, Joy Division, OMD, Josh Wink, STYX, Tangerine Dream, Keane, Japan, New Order to name few.

Crow Vintage Strings is a new super realistic strings machine emulator, that reproduce the lush sound of analog string machines. Like these old machines, Crow Vintage Strings is a synthesizer that was especially designed to produce rich warm strings pads.

More
Price: €19.99
Difficulty: medium CPU: medium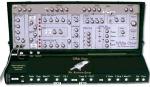 White Crow is a virtual monophonic synthesizer with a very distinctive sound (listen to the sound demos) that uses a unique synthesis method called Phase Distortion Synthesis.
Phase distortion synthesis is a synthesis method introduced by Casio in its CZ range of synths. This synthesis method has an "analogue" character that can be described as clean and sharp.
White Crow takes Phase Distortion a few steps further, with two super PD oscillators, phase distortion envelopes & LFO, special signal flow design and an advanced effects section.

More
Price: €39.99
Difficulty: medium CPU: medium