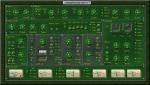 GreenMachine Amp II is a Guitar Amplifier VST effect plugin.

Specification:

* Clearly arranged user interface.
* Preamp model: american and british style.
* Amp model: Tube 50, Tube100 and SolidState.
* 3 different Tone Stacks.
* 5 Band graphic Eq with changeable range, bandwidth and output level.
* 3 Band parametric post Eq.
* Speaker simulation: open/closed cabinet, backward reflection and Speaker simulation mix control.
* Wah wah, Delay, Chorus, Reverb, Rotary/Vibrato effect.
* 5 different VU Meter to check the most important values inside.
* MIDI control for most functions.
* Input source selector: Guitar, Bass and Bypass e.g. for synth's or vocals.
* Noise reduction filter.
* About 80 "ready to go" presets.

More
Price: €68.00
Difficulty: medium CPU: medium