If you need a tool to play soundfonts this is the one you need.



Main Engine

* High Quality band limiting sample-playback engine.
* 9 quality settings to allow precise CPU usage optimisation.
* 256 voices of polyphony, unlimited layers per voice.
* Per-channel polyphony limiter.
* Fully Multi-timbral operation, supports all 16 MIDI channels.
* Supports any standard/custom samplerate, including 22k, 32k, 44.1k, 48k, 88.2k, 96k, 192k and 384k.
* Extensive SoundFont compatibility.
* Several loading modes: Whole SoundFont, Single Program, Direct-from-Disk streaming.
* Stereo Output.

More
Price: Free
Difficulty: easy CPU: low

Great and very popular monosynth with a unique sound.

* 2 Oscillators with multiple waveforms
* Pitch, Filter and Amp envelope generators with velocity, scaling and amplitude controls
* 3 LFOs
* Portamento
* Multi-mode filter with resonance
* Noise generator
* Oscillators, filter and amplifier controllable by Aftertouch, mod wheel and velocity
* Stereo spread
* Echo
* Extensive MIDI implementation: Portamento on/off, time, volume, Aftertouch, sustain switch, modulation, pitchbend, breath, velocity, cutoff, resonance, detune, transpose, osc1wave, osc2wave, delay level and a lot more
* Three keying modes: Fingered, High note priority legato, Full legato
* Many features can be disabled to save CPU
* Outstanding look with wooden surround by Matthys L.C. van Amsterdam (Alterex)
Price: Free
Difficulty: medium CPU: low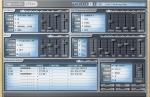 An amazingly fat and rich sounding virtual analog synthesizer with loads of parameters to build, finetune and finish your sounds. A great plugin to create a wide spectrum of possible sounds.
Price: €149.00
Difficulty: hard CPU: medium