| | | | |
| --- | --- | --- | --- |
| | | Showing plugins 1-4 (4 found) | |

4Front Piano Module is a useful VSTi plug-in for musicians who are in need of a lightweight, low-CPU upright-style, acoustic piano sound.

This piano module is neither a sample player, nor synthesized. It's a hybrid technology, that combines both methods. This resulted in a great module size reduction and light CPU usage.

More
Price: Free
Difficulty: easy CPU: low

Grand Piano is a high quality stereo acoustic grand piano with presence and velocity.
Price: Free
Difficulty: easy CPU: low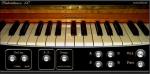 Stage-piaon with a very real sound. Output can be adjusted with a HP filter, delay, damp and ADSR-settings.
Price: Free
Difficulty: medium CPU: medium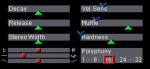 Very low CPU usage, nice sound and in comparison with other huge piano plugins this one is really short in file size and has a quite satisfying sound. Its interface is simple but versatile. I use this one alot if I need a piano instantly. If you need an alternative to Trinitys Piano (MadTracker Instrument, 17 MB) this is maybe your choice.
| | | | |
| --- | --- | --- | --- |
| | | Showing plugins 1-4 (4 found) | |