| | | | |
| --- | --- | --- | --- |
| | | Showing plugins 1-6 (6 found) | |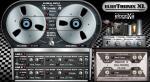 Emulation of Robert Fripp's tape delay effect "Frippertronics": two Revox B-77 in continuous loop. This XL version supposes a complete rewrite of the old Elottronix, and adds a ton of new possibilities:

* Two independent routable delay lines, with a maximum delay time of 80 seconds. Tempo can be synced to host BPM.
* LFO controlled Pan per delay line, with definable Bar Divisions, Pitch and Waveform.
* Two global Pan modes: normal and inverted.
* Rehearsal option: when switched ON, the incoming signal doesn't pass through the delay lines, so you can try different things before inserting them into the loop.
* Biquad-X multimode filter per delay line. This advanced filter has 9 different modes: Low Pass, High Pass, Low Shelf, High Shelf, All Pass, Band Reject, Band Pass CSG, Band PassC0PK and Peak. Optional parameters to control are Gain, Cutoff and Q.
* Tape machine: this module generates tape hiss, which can be pitched up and down.
* Completely automatable via MIDI CC.
* Moderate CPU use (-8% Athlon XP 2400+).
* Includes 8 Presets to give an idea of the effect (4 for sends, 4 for inserts). But what Elottronix XL does can't be covered with presets as you'll discover
Price: Free
Difficulty: medium CPU: medium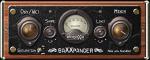 A vintage style saturation/bass expander unit.
Price: Free
Difficulty: easy CPU: low

Improves the harmonical content of the audio source processed. Ideal to add "something" extra to the signal, without using equalizers.
Price: Free
Difficulty: medium CPU: medium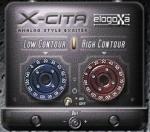 Analog style exciter for mastering purposes,
inspired on the BBE Maximizer models. Its warm sound and simplicity of using makes this exciter very suitable to add some subtle brightness in the high frequencies, and also make the lows more dense. Apart from the mastering stage, you'll find that it can also make a good work on individual tracks.
Price: Free
Difficulty: easy CPU: low

High gain distortion, four levels, Moog filter, High Pass filter.

The website has been updated, but doesnt seem to contain information, so download link is to an older page.

Price: Free
Difficulty: medium CPU: medium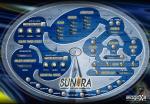 Ambient texture generator. It's based on a dual synthesis engine (1 substractive oscillator + 2 wave players), completed with several randomization options and a battery of built-in effects. It also features a good set of 24 presets.

* Dual synthesis architecture. The sound is generated by the conjunction of 1 subtractive oscillator (7 waveforms) and 2 WAV files with samples from real solar sounds.
* Wave loading option. The users can substitute the 2 internal waves (SOLAR MODES) their favourite .WAV files.
* Randomization capabilities. The sampled waves (SOLAR MODES) pass through three consecutive note-sequencers (MUSIK, GROOVE and VARIATIONS), which reproduce MIDI patterns that can be combined in several ways. The subtractive oscillator (HELIOS HEARTBEAT) features also its own 3 self-generative modes of randomization, called QUANTA, VOICES and MULTIPLIER.
* Built in effects. The synth has a bank of selectable send effects, which includes chorus, delay, random and filter, and another 4-Mode filter (Lo Pass, High Pass, Band Pass, Band Reject) completes the signal path after the master out.
* 3 note polyphonic.
* Completely automatable via MIDI CC.
* Includes 24 Factory Presets to give and idea of the potential of the synth.
* Moderate CPU use (+-20% Athlon 1200).
Price: Free
Difficulty: medium CPU: medium
| | | | |
| --- | --- | --- | --- |
| | | Showing plugins 1-6 (6 found) | |