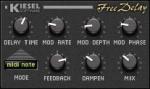 FreeDelay is the LFO modulated Delay from the VST instrument 'Helga' in a stand-alone form. It features the following characteristics:

*LFO modulation
- The delay time can be modulated with a sinusoid Low Frequency Oscillator.
*Stereo
- Adjustable phase difference between the left and right channel modulations.
*Low-pass filter
- The feedback can be dampen with a low-pass filter.
*Modes
- Tempo sync 3/2, 1/1, 2/3, Smooth Mode and Tunable to MIDI note.
Price: Free
Difficulty: easy CPU: low