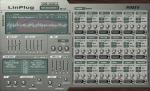 The RM IV is a flexible and easy-to-use drum machine that combines analog-style percussion synthesis with a fully featured, intelligent percussion sampler. Built using LinPlug's enhanced high-quality audio engine, the RM IV features 18 velocity-sensitive Drum Pads that can be used to trigger any of many different Audio Generator Modules. The RM IV includes 10 percussion synthesis algorithms, as well as a fully featured percussion sampler.

More
Price: €149.00
Difficulty: medium CPU: medium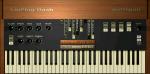 daOrgan features all of the controls found on the original B3 as well as a sophisticated rotary speaker simulation. These features have been incorporated into an easy-to-use interface, capable of producing a wide range of classic and modern organ sounds

Features:

* 24 voice polyphonic (CPU dependent)
* 9 drawbars
* Adjustable Percussion
* Adjustable KeyClick
* Adjustable motor noise
* Spread (play 5 detuned organs simultaneously)
* Distortion that ranges from warm to dirty
* Rotary speaker cabinet simulation
* Fully recognized Velocity
* Full integration in VST environment: Sample accurate timing, full automation and settings are saved with your song
Price: €40.00
Difficulty: medium CPU: medium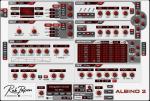 * VST2.0 and AU plug-in synthesizer for PC and Mac
* Modular and extendable design currently with 3 Oscillator Modules, 2 Filter Modules, 2 Envelope Modules and 8 Effect Modules
* 32 note polyphonic (CPU dependent)
* Unlimited sound programs, Sound Browser
* 1400 Rob Papen presets
* up to 4 oscillator per voice, various High Quality Oscillator types with countless waveforms
* Amplitude and Frequency Modulation and "Pulse Width Modulation" for all (!) waveforms, Sync
* 2 filters per voice, each with 2 types of multimode filters, altogether 12 filter modes, saturation control
* 8 envelopes per voice, 2 types: 5 levels / 5 rates with loop and enhanced ADSR Mode
* Variable keyboard and velocity tracking, individual for each envelope
* 4 individual LFOs with various waveforms, broad range of tempo sync, Symmetry and Phase adjustable, additional LFO-DAD-Envelopes
* Portamento / Glide with various options, constant Time or Rate and Auto-Bend
* Adjustable Precision to bring in the warmth of good old analogue modules
* Sophisticated Arpeggiator with 32 programmeable steps, several modes,swing, several clock settings, save/load/copy/paste and many more functions
* Unique modulation matrix with hundreds of modulation routings
* Spread for ultra-fat sounds (up to 20 Oscillators)
* Microtuning support for different scales
* 2 effect blocks with two chorus, flanger, phaser, filter/distortion, two delays, gator and reverb effects
* Fully recognized velocity, mono and poly aftertouch, pitch bend, mod-wheel and various other controllers
* Full version comes with a comprehensive PDF manual (box version with printed manual)
* Sample accurate timing, full automation and settings are saved with your song
Price: €200.00
Difficulty: medium CPU: medium

The Alpha Classic Synthesizer features an easy to learn subtractive design with special attention being paid to recreating the warmth and feel typically found in early-1980s analog synthesizers.


Features:

* Up to 24 note polyphonic (CPU dependent).
* Allows an unlimited number of presets (direct from disk).
* 2 oscillators with each 2 from 30 different waveforms; pitch, amplitude and symmetry modulation from LFO, Envelope or MIDI.
* Fat and rich-sounding Multimode filter with saturation; cutoff and resonance modulation from LFO, Envelope and MIDI.
* 2 separate ADSFR envelopes for amplitude and cutoff, time ranges from super-fast 1 millisecond up to full 10 seconds.
* LFO with 6 waveforms, variable attack, variable temp sync, switchable Mono-mode.
* Modulation matrix with 4 free assignable slots, 15 sources, 12 destinations.
* Adjustable Warmth (Precision).
* Mono- & polyphonic portamento/glide with Normal, Held and Auto-Bend mode; constant rate or time.
* Adjustable voice limit down to monophonic.
* Fully recognised velocity and aftertouch (mono and poly) and several controllers.
* LinPlug ECS for MIDI-CC assignment.
* Own Preset Browser works in any VST host.
* Comprehensive PDF manual.
* Sample accurate timing, full automation and settings are saved with your song.
Price: Free
Difficulty: medium CPU: medium