| | | | |
| --- | --- | --- | --- |
| | | Showing plugins 1-4 (4 found) | |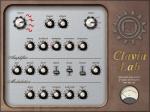 If you need an electric piano but are looking for something more than the usual Rhodes or Whurlitzer clone, then Clavia Lab is the instrument for you.

This is a hybrid analog/physical model using experimental techniques to create the complex changing harmonic content of an electric piano. Features include:

More
Price: Free
Difficulty: easy CPU: high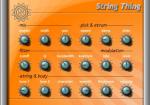 String Thing is a plucked string based on 'Karplus Strong' algorithm with advanced controls and filtering to create a more natural tone.

Features include:
* Controls over plucking.
* Variable bandwidth filter.
* Modulation (MIDI CC).
* Various controls for tonal quality.
* Reasonable CPU load.
Price: Free
Difficulty: easy CPU: medium
Designed to re-create the sound of a 'Theramin' and offering control either using a MIDI keyboard or using the mouse to drag the glowing spot across the 'chart' for more authentic 'Theramin' style play. Spook Keys also includes the following features:

* sine, sawtooth, triangle and pulse waves
* variable key in and out response
* variable LFO for vibrato and tremolo
* pan, chorus (detuning), stereo spread and glide controls
* filtered, ping-pong, stereo delay.
Price: Free
Difficulty: easy CPU: low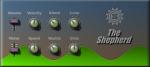 Kill Bill has a tune in its soundtrack by Ennio Morricone featuring a haunting and evocative whistling. This 'mini-synth' is designed solely to re-create that sound - just add reverb. This shepherd likes to whistle while he works. Features include:

* very little really
* just enough control over sound
* just enough control over play.
Price: Free
Difficulty: easy CPU: low
| | | | |
| --- | --- | --- | --- |
| | | Showing plugins 1-4 (4 found) | |