| | | | |
| --- | --- | --- | --- |
| | | Showing plugins 1-4 (4 found) | |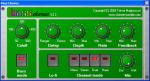 This plugin is very nice for enhancing bass sound. It gives an overall warm feeling. Works very good on most low frequency sounds.
Price: Free
Difficulty: easy CPU: low

This plugin offers 3 stereo delays with cross-feedback.Parallel or serial modes. It can enhance the stereo field and give your mix more depth. You can create weird results with extreme feedback settings.
Price: €100.00
Difficulty: medium CPU: low
Basic chorus plugin that comes bundled with most Steinberg audio applications.
Difficulty: medium CPU: medium

Classic Chorus is a great sounding and easy to use classical Chorus VST plugin. Nice Plugin for adding Depth, Fatness and Stereo perspective to almost any Electrical Instruments or Vocal.
Price: Free
Difficulty: easy CPU: low
| | | | |
| --- | --- | --- | --- |
| | | Showing plugins 1-4 (4 found) | |