| | | | |
| --- | --- | --- | --- |
| | | Showing plugins 1-4 (4 found) | |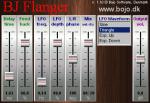 Part of the free VST plugin pack. The complete package consists of BJ Flanger, BJ LoFi, BJ Overdrive,
BJ RingmodulatorČ, BJ Tremolo, and BJ WavechangerČ.
Price: Free
Difficulty: medium CPU: medium

Take a trip back to the mid 80's with our Classic Flanger. It will give you that subtle or massive swirling effect that is used mainly for guitar, but can be used for many other instruments as well. Due to a tightly controlled feedback path, it is possible to boost the flanging effect to maximum without getting unwanted side effects.
Price: Free
Difficulty: easy CPU: low

By Bram @ Smart Electronix

* 3 to 23 stage phaser with feedback.
* Phaser operation is controlled by a mixture of LFO and envelope follower, both configurable.
* Enhanced stereo effect.
* Pre-phaser distort or saturate.

Price: Free
Difficulty: medium CPU: low
Classic tape-flanging simulation
Price: Free
Difficulty: easy CPU: low
| | | | |
| --- | --- | --- | --- |
| | | Showing plugins 1-4 (4 found) | |