| | | | |
| --- | --- | --- | --- |
| | 1 2 3 4 5 6 7 8 9 | Showing plugins 21-30 (88 found) | |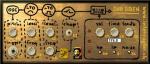 This one is for all the Dub and Reggae people out there. It emulates the sounds of the self-made siren units used by Sound Systems like Jah Shaka, Aba Shanti and countless others.

* Simple synthesizer architecture with 1 Oscillator and 2 independent LFOs (LFO1: rectified sine LFO2: pulse) additional chopper circuit to mute the sound during the low phase of LFO2.
* Tape delay emulation with high pass and low pass filter in the feedback path. adjustable simulation of tape hiss. (useful for endless delays at high tape saturation levels).
* All parameters controllable by midi (controllers #20 - #32).
Price: Free
Difficulty: medium CPU: low
The mda DX-10 VSTi is a freeware FM synth that recreates the classic FM sound but with a much simpler and more intuitive interface than any DX synth, or any of their software imitations.

By using a harmonically rich modulating oscillator (with extra control in the new version) only only one carrier and modulator produce a wide range of FM sounds typical of the later series of Yamaha DX synths such the DX-11 and TX-81Z.

Price: Free
Difficulty: easy CPU: low

EGOkILLER uses a double-dose Phase Distortion Oscillator in place of the standard oscillator/filter set-up. It is a very powerful form of synthesis first seen in Casio's CZ synths in the '80's. The PD Oscillators have a very full sound that gives this synth great character. It is designed for EBM/Industrial music but is versatile enough to be used anywhere.

More
Price: Free
Difficulty: medium CPU: medium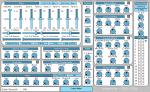 Features:

* 6 osc using either saw, square, exp, triangle wave, Smoothed saw, smoothed sqr, vocal and bell. You can control the coarse tuning of each of these osc's between -36 semi to +36 semi.
* Osc 1 to 3 & 4 to 6 can have different wave types.
* Different volume envelopes for Osc 1 to 3 and 4 to 6.
* Pulse width modulation for square waves.
* Unison - this controls the fine detuning between the osc's and how this detuning changes overtime.
* ADSR envelope.
* Modulated pan position.
* 8 / 16 polyphony toggle.
* Vibrato / Tremolo / Modulating Stereo widening.
* 10 type filter (12/24db low/high/bp/br + ring/comb) with att/rel envelope and modulating LFO.
* Effects - tempo-synced delay, 4 part chorus / flanger, reverb, multi-stage phaser & distortion.
* 80 presets and manual.
Price: Free
Difficulty: medium CPU: medium
Isotope is a Performance Synthesizer / Groove sequencer / Multi-FX. It is no longer available.

Features:

* 4 Oscillator Unison mode.
* 2 Sub oscillators in split transposition mode.
* EVM Multiwave technology for a wide stereo spread.
* Waves: new(ish) waveform modules that can get almost 100 waves. (Still in development).
* Individual filter for each Osc with Phase variable contour frequency response.
* 4 Stage ADSR with Filter, contour and Osc pitch response.
* Built in Digital Delay line.
* Complex modulation with 2 LFOs and multiple destinations.
* 16 Patch memory programs.
* MIDI channel 1-16 or All.
* Selectable pitch bend range for realtime pitch wheel control.
* 8 Channel Groove Sequencer Filter,Waves and Oscillator Cross-Mod.
* Pitch bend and Modulation wheels.

Discontinued
Difficulty: medium CPU: medium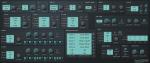 A Virtual analog synthesizer featuring a range of tempo-based modulation options. The demo version is fully functional except the output peridically drops to silence. The full version of Feldspar furthermore includes FeldsparFX - a VST effect plugin based on Feldspar's architecture.
Price: €16.95
Difficulty: medium CPU: medium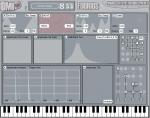 Foorius is a VSTi which allows you to explore and combine multiple
synthesis methods in a single patch.

it features...
- 16 note polyphonic synthesis engine
- FM, AM, VA, Wave-sequencing and Noise Oscillators
- Loads of different filters including circuit modeled Analog filters
- Freely routable signals
- built in effects
- 20 LFO's and 20 128-point Envelope generators
- Advanced midi handling
- Unique GUI that moves beyond the "looks just like hardware" paradigm
- 80 patches to get you started
- Standalone version as well as VSTi version
Price: Free
Difficulty: medium CPU: medium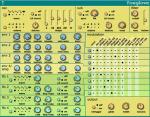 Foxglove is a waveshaping monosynth. The left and right channels are generated independently which allows for interesting stereo effects.
Price: Free
Difficulty: medium CPU: medium
Very good for warm pads and synth strings.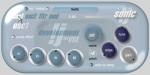 A small nice plugin if you need some special effects and bleepy filter sounds.
Price: Free
Difficulty: medium CPU: low
| | | | |
| --- | --- | --- | --- |
| | 1 2 3 4 5 6 7 8 9 | Showing plugins 21-30 (88 found) | |