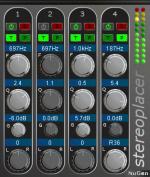 Stereoplacer is a VST effect for windows designed for
direct manipulation of frequencies in the stereo image. Each of the four channels can be tuned to
affect a specific frequency as with a traditional parametric EQ. Once tuned, the frequencies can be
moved within the stereo field. Useful for adjusting an existing stereo signal or adding stereo
depth to a mono signal. The tuneable nature makes this especially suited to adjusting percussion
signals.

More
Price: Free
Difficulty: medium CPU: medium