| | | | |
| --- | --- | --- | --- |
| | | Showing plugins 1-4 (4 found) | |
This plugin is really helpful for limiting mixes. Its GUI is very easy and the results are really pleasing.
Price: Free
Difficulty: easy CPU: low
Basic but fast limiter. This very first version made in 1998 lets you use the first brickwall limitation algorithm of the C-Limiter for free.
Price: Free
Difficulty: easy CPU: low
A basic leveler that comes packed with certain Steinberg products, such as Wavelab.
Difficulty: easy CPU: low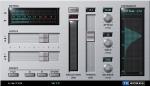 Limiter is the power tool for limiting and maximizing your audio recordings. More punch and perfect levels are the strength of this Plug-In, making it the tool of choice for any mastering application!

Limiter is a TC-quality single-band limiter. Adjustable Hold Time, Auto Make-Up Gain, a huge reduction meter and a level histogram, turn this Plug-In into the perfect tool for mastering!

More
Discontinued
Difficulty: easy CPU: low
| | | | |
| --- | --- | --- | --- |
| | | Showing plugins 1-4 (4 found) | |