| | | | |
| --- | --- | --- | --- |
| | | Showing plugins 1-3 (3 found) | |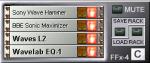 A stable and intuitive wrapper to host DirectX plugins inside MadTracker. One instance of FFX-4 enables you to load and configure four DirectX plugins.
Price: Free
Difficulty: easy CPU: low
WaveShell is a shell made by Waves to provide an interface between their DirectX plug-ins and any VST host. This VST-shell works for all their DirectX plugins, enabling you to use them directly inside MadTracker. WaveShell is automatically included inside all Waves plugin bundles.
Difficulty: easy CPU: low
pHATmatik can load REX files (type 1 only) created by Propllerheads ReCycle, or .pHAT files (you'll just have to wait and see). Each slice of the REX file is essentially a sample in pHATmatik, allowing you to trigger individual transients from the original loop via MIDI note-on messages.
pHATmatik can also extract the MIDI timing information from the REX file and save it to a Standard Midi File for import into your VSTi host.

More
Price: Free
Difficulty: easy CPU: low
| | | | |
| --- | --- | --- | --- |
| | | Showing plugins 1-3 (3 found) | |