Sub-categories: Analogue (16), Bass guitar (2), Bass Player (1), Bass synth (10), Beatslicer (1), Chipsound (2), Chromatic percussion (3), Clavinet (1), Drum Sampler (9), Drums (12), Electric guitar (1), Electric piano (8), FM synthesis (4), Granular synthesis (1), Instrument emulator (2), Modular Synth (5), Organ (9), other (1), Phase distortion (1), Piano (4), Restructuring Synth (2), Sample player (4), Sample Slicer (1), Sampler (6), Sequencer (4), Sound Module (5), SoundFont Player (1), String (6), String Synth (1), Strings / Orchestral (3), Synth (Additive) (1), Synth (Hybrid) (7), Synth (Sample Based) (2), Synth (Voice/Formant) (1), Synthesizer (88), Theremin (2), Tracker (1), Vowel Synth (1), Whistle synth (2)
---

Grand Piano is a high quality stereo acoustic grand piano with presence and velocity.
Price: Free
Difficulty: easy CPU: low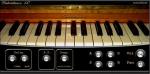 Stage-piaon with a very real sound. Output can be adjusted with a HP filter, delay, damp and ADSR-settings.
Price: Free
Difficulty: medium CPU: medium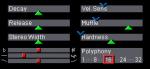 Very low CPU usage, nice sound and in comparison with other huge piano plugins this one is really short in file size and has a quite satisfying sound. Its interface is simple but versatile. I use this one alot if I need a piano instantly. If you need an alternative to Trinitys Piano (MadTracker Instrument, 17 MB) this is maybe your choice.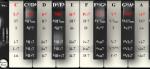 Using Chordspace Playa you play a chord with your left hand while your right plays the melody in the correct scale for that chord. In the same way an accomplished pianist does.
Except that you`re only using one finger for the chord and the correct melody scale is always on the white notes - ain`t technology great?
Price: €35.00
Difficulty: medium CPU: medium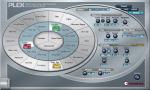 PLEX is a synthesizer based on an absolutely novel synthesizing process, which offers you almost limitless possibilities in varying and creating sounds. Using a new audio analysis technique, the original sound is split into four components: lower spectrum, higher spectrum, filter characteristics and amplitude envelope. Each component can be replaced and combined with other elements.
Price: €169.99
Difficulty: medium CPU: medium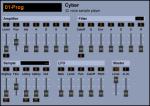 # 32 voice polyphony.
# Unlimited programs and samples.
# Multi-timbral.
# Split and layer.
# Visual key map editor.
# MIDI learn on org.key, low.key and up.key.
# Low/band/highpass filter with cutoff and Q.
# Reads standard WAV (with loop points) and AIFF.
# Drag and drop WAV and AIFF from Windows Explorer.
# Saves all data with song (if supported by host).
# Volume/filter ADSR.
# LFO assignable to level, pan, cutoff and pitch.
# Loop editor with 1shot, forward and alternate looping.
# Sample preview (using DirectSound).
Price: Free
Difficulty: medium CPU: medium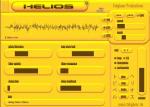 Helios is a little sampler unit, intended to explore the more creative side of sampling and not really meant to replace full-fledged samplers. Rather regard it as a fun and wicked live performance tool

It can load a single WAV file and tweak it live in realtime to produce some really strange sounds.

More
Price: Free
Difficulty: medium CPU: medium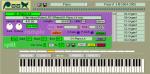 Paax is a VSTi (Virtual Instrument) sampler with the functionality of many fancy software and hardware samplers, yet quite easy to use and, best of all, it is freeware!. Some of its features are:

* Up to 128 presets per bank.
* Up to 84 splits per preset and 4 velocity-triggered samples per split.
* 32 simultaneous voices.
* Plays 8/16 bit, mono/stereo wav files @ any sample rate.
* Low CPU consumption.
* RAM save scheme (only active presetsí samples are loaded at one time).
* Low aliasing resampling technology, 32 bit audio engine.
* 3 envelope controls (ADSR) per preset: amplitude, pitch and filter cutoff.
* 3 configurable LFOs per preset: tremolo, vibrato and filter cutoff.
* All envelopes and oscillators can be synchronized to MIDI tempo.
* Managing presets, splits and samples is simpler than ever!
* Bank format offers choice for embedded or referenced samples.
* Fully automatable.
* VST* 2.3 compatible.
Price: Free
Difficulty: medium CPU: medium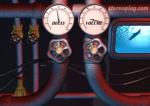 A simple vst-instrument with just one sample of a long sonar-ping (from JP8080) and two knobs for decay and volume. Can be played chromatically. Might be useful if you need a sonar sound.
Price: Free
Difficulty: medium CPU: medium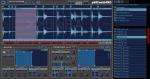 pHATmatik PRO is the first tool of its kind that can effortlessly play back any loop locked to tempo in your host environment. No more artificial impediments to creativity: pHATmatik PRO puts you in control. Use loops at any tempo, in any key, instantly from within your digital audio workstation. No more switching back and forth between unreliable tools and dealing with confusing, proprietary file formats. pHATmatik PRO loads any loop in industry-standard wav or aiff format, and supports import of ACID-ized wav files. pHATmatik PRO works for the musician, not the other way around.

More
Price: €149.50
Difficulty: medium CPU: medium
---
Contact the plugins database maintainers at
---
Copyright © 1998-2005 Yannick Delwiche
All rights reserved