Sub-categories: Analogue (16), Bass guitar (2), Bass Player (1), Bass synth (10), Beatslicer (1), Chipsound (2), Chromatic percussion (3), Clavinet (1), Drum Sampler (9), Drums (12), Electric guitar (1), Electric piano (8), FM synthesis (4), Granular synthesis (1), Instrument emulator (2), Modular Synth (5), Organ (9), other (1), Phase distortion (1), Piano (4), Restructuring Synth (2), Sample player (4), Sample Slicer (1), Sampler (6), Sequencer (4), Sound Module (5), SoundFont Player (1), String (6), String Synth (1), Strings / Orchestral (3), Synth (Additive) (1), Synth (Hybrid) (7), Synth (Sample Based) (2), Synth (Voice/Formant) (1), Synthesizer (88), Theremin (2), Tracker (1), Vowel Synth (1), Whistle synth (2)
---
| | | | |
| --- | --- | --- | --- |
| | 1 2 3 4 5 6 7 8 9 10 | Showing plugins 21-30 (231 found) | |

EVM Bassline is a "WaveSample Bass Player".

Features:

* Multi-mode filter with resonance.
* Envelope trigger/gating.
* Monophonic/Duophonic mode.
* Adjustable glide.
Price: Free
Difficulty: easy CPU: low

Bassline synthesizer with the following features:

*Multimode filter with resonance
*Envelope trigger/gating
*Monophonic/Duophonic modes
*Variable glide
Price: Free
Difficulty: easy CPU: low
You can create some very rich synth basses with this one.

* OSC: 6waveforms, FM, Unison, Unison Detune.
* 6Filtertypes(12/24dB), 2Resonancetypes, Filter EG.
* LFO(BPM Synced / Manual) for Filter Freq Mod.
* Amplifier EG, Bottom Booster, Portamento.
* Monophonic.
* MIDI automation.

Price: Free
Difficulty: easy CPU: low

This monophonic lead/bass-synth screams like there is no tomorrow. The distortion, delay and reverb make sure it is heard throughout the whole jungle.

Four oscillators are fed into two filter-units, two distortions and then into the basis-panner.
Price: €29.99
Difficulty: medium CPU: medium

Creakbox Bassline is a mono synth with a built in sequencer. It has a 5 octave range and sounds very much like a killer little box many try to duplicate.

Price: Free
Difficulty: medium CPU: medium

This is good for producing those rich deep basses of the 70's analogue synths, There are two ramp wave oscillators and a detune slider that simultaneously sharpens one oscillator and flattens the other to get a fat sound.
Price: Free
Difficulty: easy CPU: low

* 32-Bit Oscillator
* Saw and Pulse waveforms
* 4 voice polyphonic (When in polymode)
* High & Low pass filters
* Cutoff, Resonance, EnvMod, Decay, Accent, and Tune controls
* Slide mode
* Mono/Poly Mode
* Full MIDI control for every parameter
Discontinued
Difficulty: easy CPU: low

The Muon Tau Pro is bursting with character and individuality, packing everything you need to create storming lead riffs and basslines.

We've taken the classic monosynth design of the Tau, added a second oscillator, PWM, sync, ring modulation and a fantastic effects engine to bring it bang up to date.
Price: €35.00
Difficulty: easy CPU: low

Multitimbral Bassline synthesizer with very low cpu usage.


* Monophonic
* VCO (Pure Triangle, Dirty Saw, Pure Saw, Pure Square, Dirty Square) - Morphable
* VCF (LPF 12 db/octave)
* VCA
* AD Envelope Generator
* Accent, Portamento(Glide), & Distortion
* 4 part multi-timbral
* Full MIDI control of all parameters
* All parameter saved with song
* Very low CPU consumption
* Sample accurate timing
Price: Free
Difficulty: easy CPU: low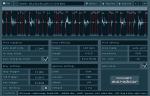 MicroDicer is our new PC VSTi beatslicer,. In MicroDicer we have tried to create simple, easy to use and inexpensive slicing program.

With MicroDicer you can drag a wav or rex/rex2 sample in, this will be automatically sliced and assigned to midi notes. You can then drag from MicroDicer into your host and the midi settings for the slices will be automatically exported into your host. Below are some example of MicroDicer in action.

More
Price: €30.00
Difficulty: medium CPU: medium
| | | | |
| --- | --- | --- | --- |
| | 1 2 3 4 5 6 7 8 9 10 | Showing plugins 21-30 (231 found) | |
---
Contact the plugins database maintainers at
---
Copyright © 1998-2005 Yannick Delwiche
All rights reserved