Sub-categories: Amplifier (9), Analyzer (4), Audio recorder (1), Beatslicer (1), Chorus (4), Compressor (20), DeEsser (2), Delay (21), Distortion (10), Drums (1), Enhancer (11), EQ (11), Expander & gate (2), Filter (14), Flanger (4), FM synthesis (1), Frequency shifter (2), FSU (4), Gate (2), Granular synthesis (1), Hardware controller (2), Imaging / Panning (5), Input controller (1), Limiter (4), Lo Fi (6), Mastering (5), Maximizer (2), Modulator (1), Multi FX (4), Noise reduction (1), other (6), Panning and Spatial Arrangement (11), Phaser (2), Pitch shifting (4), Randomizer (1), Restructuring Synth (1), Reverb (13), Ringmodulator (2), Sample manipulator (3), Simulator (1), Synthesizer (1), Tremolo (2), Vocoder (7), Wave shaper (1)
---
Several low frequency enhancement methods to add a sub octave to bass or drums. It is part of the entire VST effect plugin pack by MDA.
Price: Free
Difficulty: easy CPU: low

This powerful tool will add natural brilliance to your vocal recording, refreshing and even restoring the quality and fidelity of any kind of instrumental of vocal material. It is great for finalizing vocal recordings or any instrumental track and will bring old recordings back to life again. Use it to add that 'pro' sound to your vocal recordings and give your audio tracks a touch of life that got lost during the process of sampling and intense post processing.

Price: €149.00
Difficulty: medium CPU: medium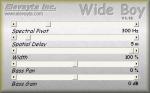 Wide Boy is a stereo enhancer insert and mastering effect. Unlike most other stereo enhancers, Wide Boy uses the fact that low frequencies are less directional than higher frequencies. By separating out the two frequency bands, and selectively applying different processing to Bass and Treble, Wide Boy realizes a wider stereo sound without losing the punch of the bass. The parameter range and flexibility also provides the possibility to generate a number of interesting additional effects.

Price: Free
Difficulty: medium CPU: medium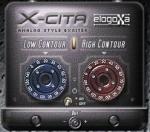 Analog style exciter for mastering purposes,
inspired on the BBE Maximizer models. Its warm sound and simplicity of using makes this exciter very suitable to add some subtle brightness in the high frequencies, and also make the lows more dense. Apart from the mastering stage, you'll find that it can also make a good work on individual tracks.
Price: Free
Difficulty: easy CPU: low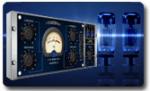 Blue PEQ2A is an equalizer, and part of the Blue Tube bundle.

The Blue Tubes Bundle is a collection of 16 plug-ins processors for PC and Mac OSX.
Designed to improve the quality of digital sound recordings. This bundle recreates the warm sound qualities of classic analog hardware. The sound quality of Blue Tubes is nothing short of amazing. Yet all 16 plug-ins provide a simple and functional "vintage-style" interface, as well as low CPU consumption for lightening-fast processing

Price: €499.00
Difficulty: medium CPU: medium

Classic EQ is a 7 Band Stereo Equaliser with a warm analog sound, well suited to make non-surgical tonal corrections on all instruments, vocals and final mixes. The passive and additive structure, together with unique "Warm" and "Saturation" algorithms, produces warm and pleasant sound, just like some of the most expensive vintage gear. The left and right channels can be adjusted individually or linked together.
Price: Free
Difficulty: easy CPU: low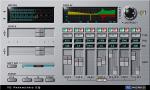 Parametric EQ is a powerful 10 Band EQ Plug-In offering much more than what is found in traditional parametric EQs. Parametric EQ features 7 fully configurable bands and 3 additional bands, which are controlled by a unique virtual joystick for simultaneous and fast Treble and Loudness control. The 7 bands can be assigned to work as Parametric, Hi Shelf, Lo Shelf or even Notch filters – and any combination of these. Split gain controls for left and right channels give you instant access for working on channels discreetly, or moving the frequency spectrum around in the stereo image.

Discontinued
Difficulty: easy CPU: low

EQ30 is based on Alesis M-EQ 230 dual 1/3 octave precision equalizer specs.


* 2 complete 30 band 1/3 octave equalizers.
* Band Boost/Cut: ±12dB.
* 25 / 31 / 40 / 50 / 62 / 80 / 100 / 125 / 160 / 200 / 250 / 320 / 400 / 500 / 640 / 800 / 1k / 1.3k / 1.6k/ 2k / 2.5k / 3.15k / 4k / 5k / 6.2k / 8k / 10k / 13k / 16k / 20kHz level controls.
* Monitor: Input, Gain, Output and Text display.
Price: €76.00
Difficulty: easy CPU: low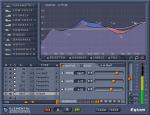 Why work within the confines of an EQ configuration of someone else's choosing? Eqium lets you determine your ideal EQ. And if you ever need more bands or filters, they're just a click away. No need to swap out for another EQ or use another insert slot. Eqium lets you be the boss.

Full feature list:

Difficulty: medium CPU: medium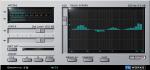 Graphic EQ is a 28 band graphic equalizer with a unique graphic interface for intuitive access to the band gain controls – simply draw the desired frequency response onto the display with the mouse, and the EQ is set. You can choose if you would like GRAPHIC EQ to operate with full 28 or alternatively 14 or 7 bands. The bands can be grouped for even easier handling.

Discontinued
Difficulty: easy CPU: low
---
Contact the plugins database maintainers at
---
Copyright © 1998-2005 Yannick Delwiche
All rights reserved